LE CHÊNE ET LE ROSEAU, NATURAL & ORGANIC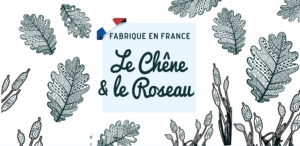 Le Chêne et le Roseau, a complete range of ecological and organic cleaning products, has been launched in 2018 by La Compagnie du Midi.
EFFICIENT & ECOLOGICAL CLEANING PRODUCTS, IT'S POSSIBLE!
Le Chêne et le Roseau offers the opportunity to take care of your home while preserving the environment and its health by offering:
– MADE IN FRANCE ecological products whose raw materials are from plant origin,
– packaging and packaging eco-designed from recycled and recyclable materials,
– products incorporating ingredients from Organic Farming, that is to say without GMOs, without chemical fertilizers or pesticides.
– ECODETERGENT labeled liquid products by ECOCERT
The range Le Chêne et le Roseau offers:
– liquid products to maintain your home in a simple and natural way: dishwashing liquid, degreaser, glass cleaner, household vinegar, ready-to-use black soap and black soap with olive oil
– wiping and scouring products made from vegetable materials, natural or recycled fibers: vegetable sponge, scouring pad, ecological wood brush, recycled fiber mop …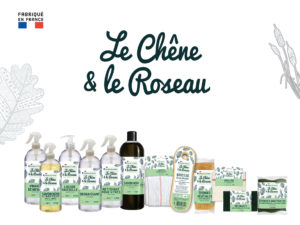 Le Chêne et le Roseau, in its eco-responsible approach, offers a bulk sale furniture for its liquid cleaning products:
– Our liquid bulk dispenser is a device to offer bulk purchase: black soap, dishwashing liquid, household vinegar etc …
– Our desire with this device is to reduce the quantities of packaging produced, give the opportunity to buy the right amount of product according to its needs and support a reasoned, responsible and sustainable consumption.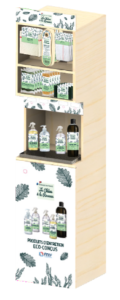 AN ENGAGED BRAND: A PARTNERSHIP WITH L'AGENCE DU DON EN NATURE
Le Chêne et le Roseau is a ecofriendly brand committed with a strong societal approach: 1% of the turnover realized by the sale of the products Le Chêne & Roseau is donated to the association "The Agency of the don in Nature" form traditional Marseille soaps for people living in precarious situations..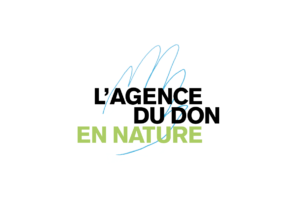 For more info, download our catalogue: Commercial catalogue